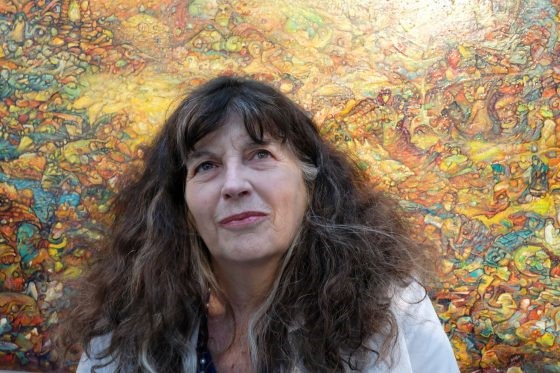 Jessica Felix
Owner of Art and all that Jazz and founder of the Healdsburg Jazz Festival
WHAT IS "ALL THAT JAZZ"?
The JAZZ in the gallery name comes from Jessica's second passion: jazz music.   She has contributed a great deal to the world of jazz with a nonprofit enterprise she and her former partner created in Oakland named "Jazz in Flight." They bought and restored a Victorian house there and within a month after moving in they had the first in a series of concerts within the house that spanned over ten years including an annual New Year's Eve concert that featured many world famous musicians. She created and produced the first five Eddie Moore Jazz Festivals at Yoshi's Nightspot. Those events turned into seven-day major jazz events with musicians coming from all over the country and even from abroad. Her house was always home to traveling musicians.
In Healdsburg, Jessica is still devoted to educating the public about jazz and helping to keep the art form alive. She has produced several jazz evenings first at the Flying Goat Cafe and then growing into the larger space of the Raven Performing Arts Center. Her dream of helping to create a jazz festival in Healdsburg became a reality in June of 1999, with the success of the first annual Healdsburg Jazz Festival, which featured Cedar Walton, Billy Higgins and Bobby Hutcherson. This annual event has continued ever since!
CUSTOMERS
Jessica's work has been shown in galleries and museums across the U.S. and abroad for over twenty-five years  Some of her better known customers have been Robin Williams, Angela Davis, Tim Robbins, Susan Sarandon, John Irving, Julie Gallo. Many great jazz musicians wear her art, including Charlie Haden, Joe Lovano, Cedar Walton, George Cables, Jackie Mclean, Abbey Lincoln, James Newton, Don Moye, Reggie Workman, Andy Mckee, Craig Handy to name a few.
BIO
Jessica Felix, Artistic Director, has been producing jazz concerts continuously since 1980 in Oakland and Northern California. She is the founder of the Eddie Moore Festival, part of the Oakland-based presenting organization Jazz in Flight, and of the Healdsburg Jazz Festival. In 1993, she conceived of and created "Children in Flight", a celebrated free workshop in Oakland for educating young children in African percussion, dance, and music. In 1999, she created the Healdsburg Jazz Festival and its accompanying Jazz Education Project and has been coordinating it ever since on a volunteer basis. Jessica is also a jewelry designer and owner of  "Art and All That Jazz" an art and jewelry gallery in Healdsburg that combines her two passions art and jazz. Her gallery is a central location in the community that locals and visitors stop by to learn and listen to jazz while enjoying the artwork.
She creates what she calls "spirited art," specializing in images from indigenous cultures around the world. "I like to create things that make jewelry fun," she says. "Much of my work is in silver, and incorporates powerful shamanic images such as Alaskan masks, African musical instruments, Northwest Indian spirit images along with pieces inspired by Japanese, Mayan and Aztec cultures. Many of my designs are in the form of sculptural sterling silver whistles, with many varied tones." You can find a silver wolf whistle with a plaintive tone, a three-inch whistle of a raven on the back of a frog and many others. "It took me about three years to figure out how to do it. I don't think anyone else makes whistles like this!
"I love to interpret unusual images into jewelry. I have created several other designs using wine motifs, African musical instruments, musical motif's and more."
She also designs gold jewelry using unusual stones she has collected over the years.  Like much of her work, her gold jewelry is another extension of her passion to create individual improvised art. "I love to just sit down and see what comes out while I'm carving the wax. All my pieces are first carved in wax and then cast using the ancient technique of lost wax."
WHY JESSICA FELIX CREATED "ART AND ALL THAT JAZZ"…
In 1995, Jessica decided to open her own showcase and shop. Most galleries were becoming more and more conservative. "I felt I had to open a gallery of my own or risk compromising the integrity of my work. I also wanted people to he able to see all my work in one space, as I have created so many different styles." To her surprise she found a broad spectrum of people of all ages and lifestyles appreciated her work, and is very pleased her work has such broad appeal.
JESSICA AND ALL THAT JAZZ
An interview with Healdsburg Jazz Festival founder and crusader
She's a focused force to be reckoned with, a well-known and highly visible local resident, a person many love and some find challenging to love. She is a friend to many of the icons of "pure jazz." She is driven in a way that few are and she lives, breathes and sacrifices much for her dream. So, who is Jessica Felix and why is she so passionate about jazz, jazz musicians, the town of Healdsburg and the festival she founded 20 years ago? We sat down for coffee at Healdsburg's Flying Goat, the scene of many Healdsburg Jazz Festival meetings over the years.
Jessica, you always put the festival and the musicians first, so we don't know that much about you. Tell us about your early life.
I was born in Los Angeles in 1949. When I was 10 my mother tragically died which changed my life.
Was there anything in your childhood that influenced your love of music and jazz?
When I was really young, I was a tomboy and a little outside the box. I went to Dorsey High School where there were a lot of budding jazz musicians and a diverse group of students, many who became well known in different fields. My father listened to Ella Fitzgerald and Louis Armstrong a lot, which was the jazz of the time.
So when did jazz take over your life?
My love of jazz started near the end of high school in the sixties. I started listening to a little Cal Tjader and Willie Bobo while I was still loving rock and Bob Dylan. Then I heard Charles Lloyd's Forest Flower, bought the album and fell completely in love with the music. I played it every morning, even in college. The music opened me up to jazz. It's hard for me to believe I am now friends with Charles, who has come to the festival many times. Around the the same time I fell in love with John Handy's Live at Monterey and Pharoah Sanders' Karma; especially with the tune "The Creator Has a Master Plan." I had discovered that this was my music and I felt deeply in sync with it.
The sixties were good years. All the music was really exciting and free. I kept listening to more and more jazz. During my first semester in college in LA, we went to the Lighthouse in Hermosa Beach and Shelly's Manne Hole to hear all the latest. I saw Miles Davis and Nina Simone, amongst many others. When I went to junior college, I met a lot of jazz fans and musicians. My father wanted me to go to a state college so I went to Arizona State for a year, but drove many times to LA and SF to hear music, including Janis Joplin and lots of jazz. Eventually I moved up to Berkeley where my neighbor was a Coltrane fanatic, so I really got into Coltrane. Later I came up to go to Santa Rosa Junior College, then went to Sonoma State and graduated from there.
Back to your Bay Area era. You met a lot of musicians in the East Bay, didn't you?
During my time at Sonoma State as I started listening to more and more jazz, I was making jewelry with a friend who was into Coltrane. He had lots of tapes of him and other jazz musicians. There is a fun picture of me and my friend Rick Sill in a history book about the Monterey Jazz Festival's early days. We were there!
I had a jazz musician boyfriend who introduced me to Billy Higgins and a lot of other musicians and it just grew from there. I came back to the Bay Area in late '70s when Keystone Korner was going on. Rahsaan Roland Kirk made a wonderful live album called Bright Moments.
I am a jeweler, so I made jewelry with those words as the design and traded them for tickets and then got a job as a bouncer. I got my "Jazz PhD" at Keystone Korners and made a lot of connections. The owner, Todd Barkan taught me about creative booking.
I lived with a man for 15 years who created a concert space in our house in Oakland and we had house concerts three or four times a year. Every year for ten years we had a New Year's Eve concert with different bands all led by George Cables. We also had a nonprofit organization called Jazz in Flight. We booked a series of shows once a week at Yoshi's, featuring local bands. One night the great drummer Eddie Moore died on stage, the dream all musicians have of going out while playing. I put on a very large memorial for him at Kimball's East with musicians coming from all over the country including Roy Haynes, Jim Pepper, Chico Freeman, Joe Henderson, Bobby Hutcherson and many more. From this I started the Eddie Moore Festival, which grew into an amazing annual event at Yoshi's. Billy Higgins and Dewey Redman played the first year and Dewey begged me to let his son Joshua play with them and the rest is history for Josh, who is now a jazz star.
How did you ever end up in the little town of Healdsburg?
After five years I left the Eddie Moore Festival and moved to St. John in the Caribbean with my jewelry equipment. I sub-leased a house and continued my wholesale jewelry business. That is what I was and am – a jewelry designer since 1972. I sold to galleries all over the country. I left my employee and main studio in Oakland and was doing my design work in the Caribbean. I loved St. John and still love it there. After a year I decided to come back to keep my business together. I'd gone through Healdsburg many times, and just decided out of nowhere, "I'm going to move to Healdsburg." I have no idea why, it just came into my head. So I just did it. I quickly met a lot of local people.
Jazz was the background music everywhere I went, making me feel I had made the right choice. I wasn't planning on opening a gallery, but I saw a sign on a corner store on the Plaza reading, "Selling Our Lease." I opened a gallery called Art and all that Jazz which I had for 16 years right on the Plaza, with the purpose of showcasing my work, selling jazz CDs and meeting jazz fans. In the back of my mind I wanted to do a jazz festival in the area because of the vision of having music in beautiful winery locations. I kept saying to everyone I didn't want to do a non-profit again, but rather a for-profit festival.
The gallery opened in October 1994. I decided to do a test concert on January 14, 1995 at the Dancing Goat (which later became the Flying Goat). I did this concert with my good friend George Cables, saying let's just test it and see who comes. We charged only $8.00 and we sold it out. This showed me there was an audience for jazz up here. I have a lot of history with George which still continues to this day. After four years of small concerts around town, selling jazz CDs out of my store, and talking jazz constantly, people started to believe in my idea of a festival. I had met Elizabeth Candelario who was the executive director of the Healdsburg Arts Council and Dan Zastrow who ran the Raven Theater. In 1998 they urged me to start a festival to get ahead of a rumored "smooth jazz" promoter. So, in 1999 Elizabeth got the first sponsors and Dan got us the venue.
That first year my friends Billy Higgins, Cedar Walton and Bobby Hutcherson did a few small concerts at what was then Raven Performance Theater in the four-plex. The city had funded a performance space and it was really nice and intimate. Billy Higgins even did a rare solo concert. The next year we had a meeting of interested people and a tall couple, very shy, handed me $10,000 and I knew we were going forward. The community enthusiasm was getting there. In 2011 the Festival was having a financial crisis and we did a benefit for the festival and all the musicians came and played for free, including the late Charlie Haden, Charles Lloyd, Julian Lage, Fred Hersch, and many of the friends that are returning this year. No question that was a turning point for the festival.
That is an amazing history. What do you hope for the future after 20 years that haven't always been easy?
I love the festival of course, and I want it to continue. I get a lot of credit, but a lot should also go to the great volunteers and the generous patrons and sponsors. It's a lot of work, more than anyone could imagine, but I have been passionate and driven to keep it going and make the 20 year milestone. The next 20 years I would like to see expanded staff that will make it easier on me. I have given 20 years to build this to what it is today. I see the festival as bringing the gift of music to people here and when they have the quality of the live music experience, learning about many groups they just heard for the first time, they want to keep coming back. So many friendships have resulted. That's why this 20th Anniversary year is called "Friends Returning."